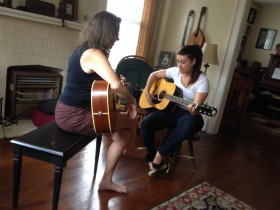 With over twenty years experience as a teaching artist, and over a thousand students passing through her school classroom and private music studio, Lisa Markley remains as passionately devoted to teaching as she is to writing and performing.
Private lessons and workshops are available in voice, piano, composition, songwriting, guitar, audition preparation (ear training, sight singing, music theory) and even trombone. Lisa is a graduate of the University of North Texas' renowned School of Music where she studied composition, jazz, voice, piano, trombone and music education.
"A great teacher is a great artist and there are as few as there are any other great artists. Teaching might even be the greatest of the arts since the medium is the human mind and spirit." John Steinbeck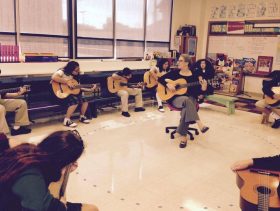 Music is a life-long journey
"A problem is a chance to do your best." Duke Ellington
I strive to honor the journey of each student, this includes those with learning differences. There is, at the very heart of what we do in the music lessons, a joy in the making of music. Students must feel that the lesson space is a safe place to take musical risks , to make mistakes, to ask questions , and to try again.
The well-rounded musician
"…we often forget that piano playing is a singing art. Often I sing to myself the music I am playing." Van Cliburn
I teach the whole musician, specializing in beginners (ages 6 to "grownup"). The voice is an integral part of study, even when the main focus is instrumental. All piano and guitar students sing what they play. Vocal students are expected to study piano as part of their voice lessons, (if they are over the age of thirteen, they also have the option of studying guitar). Piano is the ideal first instrument! A good working knowledge of the piano is an excellent first step towards all the other instruments.
Students learn to bring playfulness to their practice:
to listen
to slow down
to try again
to play without tension
to work through their fears
to try again
to be patient with themselves
to try again (and again and again)
Reading, writing, improvising
"Real art is one of the most powerful forces in the rise of mankind, and he who renders it accessible to as many people as possible is a benefactor of humanity." Zoltan Kodaly
In our music lessons, proper technique and knowledge of music fundamentals grow alongside improvisation, chord theory and playing by ear. I do not adhere strictly to any single methodology though my own teaching method has been greatly informed by the techniques of Zoltan Kodaly and Carl Orff. Lessons are customized for each student. The basics of music notation and Western harmony can be learned through any musical genre, be it classical, blues and boogie, jazz, pop, country, or folk styles. I seek to find music that truly inspires each individual student. Improvisation, composition, and songwriting are highly encouraged.
Some words from parents and students
"When I saw Lisa perform, I knew she was THE music teacher for my daughter and their first lesson together proved my hunch! Lisa put my daughter miraculously at ease while gently testing her ability and knowledge of theory right away. I couldn't be more pleased to have her as my daughter's musical mentor!" Michelle Sandlin
"My children learned piano from Lisa and hold fond memories of their time with her. Piano provided a solid foundation for the transition to to band a few years later. Recently I asked Lisa if she was up to teaching an old dog new tricks, as I had joined a choir for the first time in 52 years with no experience singing or reading music. She put me immediately at ease and is a wonderful support – I stepped out of my comfort zone to do this and Lisa's helping me find a new zone!" Jennifer Quinn
"Lisa Markley has been the trusted piano and voice teacher to my two young boys. The fact that my boys look forward to their music lessons each week speaks volumes. Lisa brings music to life and makes learning fun while teaching the core fundamentals. She allows the boys to explore and dive into music with hearts and hands wide open – we are playing the Beatles right now. Lisa is a gem, a pure talent and gives of herself musically in so many ways. I highly recommend her." Linda Carlson (mother to Jon and Max)