template : home
Classes with Miz Markley, Rhinebeck, Woodstock, and (soon) Skype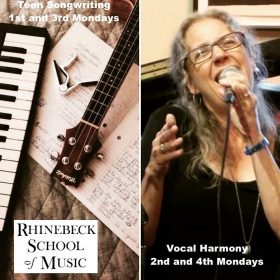 Teaching has been an unfathomable gift to me.
When we moved here to New York 19 months ago, I made the decision that I would only teach freelance, with a focus on private lessons.  It took over a year, but my practice is growing.  One of the most magical bits of serendipity was my connection to Rhinebeck School of Music.  They welcomed me into their community and have supported everything I do.  In addition to teaching private lessons there, I also host Monday night "meet-ups"  in Songwriting (for teens) and in Vocal Harmony (teen-adult).  These groups are growing organically, and becoming their own tight communities.  We meet and share our music, collaborations in heart and sound.  As for lessons, I am in new territory here, after 25 years in beginning and intermediate guitar and piano, I am teaching voice almost exclusively.  Often the students who come to me are girls, already singing in theater settings and choral settings, or already taking classical piano.  They are searching for a teacher who will teach them to play and sing songs.  My adult students also share the main desire to sing songs.  I have spent my entire life obsessed with song.  To share songs with others is a miracle to me.  I am surprised daily by each class, by each private lesson, and the completeness I feel, finally working where I belong.
Friends have asked if I can teach via Skype, and I am excited to announce that I will soon have Skype up and running for long-distance lessons.  Long-distance, I can teach jazz harmony, improvisation, writing lead sheets, finding the right key for your voice, songwriting, chord theory, vocal warm-ups and more.  I am also available for hire to transcribe and notate your songs (for reheasals, recordings, copyright purposes and more)  You can reach me here through my website.
I have so much to learn, and I know this will never end.  I am eternally grateful for the journey, and the honor of working along side my students.  Peace, Love, and Song,
lisa

Markley & Balmer once again deconstructing the American Songbook, this time featuring songs that began their life as already well-known tunes.  Fitting lyrics to an already existing tune (whether it's the head of the chart, or vocalese on a famous improvised solo), is the greatest puzzle facing a lyricist.  The goal being, to make it […]