template : home
LISA AT RHINEBECK SCHOOL OF MUSIC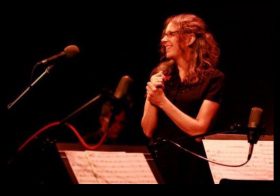 I can now be found at RSoM 5 days a week, teaching Voice & Piano, Voice & Guitar, Voice & Ukulele, and yes, even Voice & Banjo.  Lessons are 45-minutes, in order to accommodate vocal technique as well as chord theory, and accompaniment of song.
My schedule is just about full (only 2 spaces left).  I may be forced to consider a waiting list, but so far my policy has been to never turn away a potential student.  What a beautiful challenge to have!
Our fall concert is this Saturday.  This is the first time that some of my students will perform singing at the piano.  I am so proud to be part of this journey with them!
As for Skype/FaceTime lessons, I am offering sessions in music theory, ear-training and sight singing, improvisation, songwriting, arranging and charting for your band, stylistic coaching, assembling your songbook, choosing the right key for a song.   

Markley & Balmer once again deconstructing the American Songbook, this time featuring songs that began their life as already well-known tunes.  Fitting lyrics to an already existing tune (whether it's the head of the chart, or vocalese on a famous improvised solo), is the greatest puzzle facing a lyricist.  The goal being, to make it […]